Ionized Water
Ionized Water, water ionizers, oxidation, free radicals, these are all terms you may have heard of when reading about alkaline water.
But what is ionized water?
What does ionized water do exactly?
More importantly…how does ionized water affect you?
We will go through all of these terms and concepts in plain English, and help you to better understand ionized water…without all of that scientific mumbo-jumbo. The more you know about ionized water, the more you will understand why ionized water is so beneficial for your body.
What Is Ionized Water?
Ionized water is a product of electrolysis completed by an ionized water unit. Ionized water is basically tap water that been filtered and then ionized. When water is ionized, it means that it is either acidic with a pH between 0 – 6, or it is alkaline with a pH between 8 – 14. Tap water typically has a neutral pH of 7.
Traditionally we judge how healthy water is based on its pH, whether it is alkaline or acidic, but the importance of pH may have overstated. It seems that Oxidation-Reduction Potential (ORP) is what we should be looking at.
After the water has undergone electrolysis inside of your Ionized Water unit, alkaline water (or reduced water) will exit the Cathodic end, and Acidic water (or Oxidized water) will exit the anodic side. Alkaline water has a high reduction potential, and Acidic water has a high oxidation potential. Why is this important to know? Well, it has to do with Oxidation and Oxygen Free Radicals. If you want to prevent your body from aging prematurely, then you need to know about oxidation, and find out how to reduce the amount of oxygen free radicals in your body.
What is Oxidation?
Oxidation is a loss of electrons. A couple examples of oxidation is when your car door starts to rust, or when a freshly cut apple starts to turn brown. When a metal starts to turn brown, we call it rusting…well the same thing happens to the body, but we call it aging.
Oxidation is the reason why our bodies age, it is why wrinkles form, it is also the reason why our organs, bones, muscles, tendons cellular membranes degenerate. Oxidation causes the cells of our bodies to break down until they no longer function.
Oxidation reactions happen when oxygen combusts (is used, or is burned) inside the human body, producing by-products called to as oxygen free radicals.
What Are Oxygen Free Radicals?
Oxygen free radicals, also called Active Oxygen, are molecules that have an uneven number of electrons, and are a result of oxidation. This molecule is not stable, so it tries to balance itself out by finding another electron. They travel through the bloodstream looking for places where they can steal electrons from. This is harmful to the body because they steal those electrons from healthy molecules, making them unstable which causes damage or even destroys the nearby cells. The molecule that has given the electron becomes an oxygen free radical.
This is a natural process that the body needs to attack and fight against diseases, viruses, and injuries. However, an excessive amount of free radicals can result in the free radicals attacking healthy molecules which causes harm to your body. The bottom line is that an excessive amount of oxygen free radicals makes them dangerous electron-thieves that cause cells to be damaged or destroyed…and they need to be stopped! This is where ionized water comes in.
How Does Ionized Water Help?
Oxidation-Reduction Potential, (ORP for short), is how anti-oxidant power is measured. A positive ORP indicates that a substance is stealing electrons from other molecules, which means it promotes oxidation. A negative ORP indicates that a substance can donate some electrons, meaning it's an antioxidant. Ionized water when in an alkaline state is an anti-oxidant and can donate electrons!
Water: Alkaline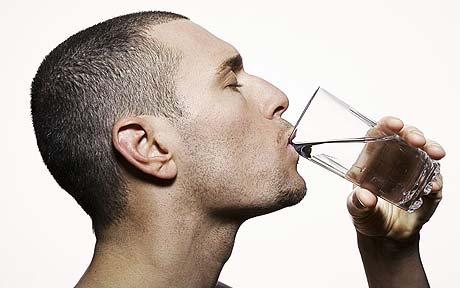 Since alkalinized water has an abundance of electrons that it can donate, it is an anti-oxidant and can help fight against oxidation of the body. Alkaline Water has a negative ORP, and it is loaded with extra electrons. It can block oxygen free radicals from interacting with healthy, normal molecules, which remain healthy and intact.
A biological molecule that remains intact and undamaged is significantly less susceptible to disease and infection. Alkaline water gives the oxygen free radicals what they want…an extra electron. Now that the oxygen free radicals has the additional electron, it becomes stable, and is rendered harmless. The active oxygen level is reduced without destroying or damaging the surrounding molecules.
Water: Acid
Acidic water produced by a water ionizer is an oxidizing agent, but that does not mean it is entirely bad. Oxidized water is an oxidizing agent, and it can remove electrons from bacteria which effectively kills them. This makes the acidic water perfect for cleaning your hands, countertops, kitchen utensils, and fruits & vegetables. It is great for sterilizing cutting boards and even minor wounds. Even though acidic water is a powerful sterilizer, it will not harm the skin. In fact, you can use it to heal wounds, burns, scratches, and treat minor athlete's foot, insect bites, and more.
Our bodies these days have become more acidic, and many of us have a high level of free radicals roaming through our bloodstreams causing damage. To prevent diseases, viruses and cancers from entering our acidic bodies, drink alkaline water to balance out the acidity. To stop the damage caused by oxygen free radicals, you should drink negative ORP Ionized Water.