Jupiter Water Ionizers
Jupiter Water Ionizers are among the higher quality ionizers on the market today. Jupiter Science is one of the world's leaders in water ionizers, and is on the cutting edge of ionization technology. Jupiter water ionizers are easy to use and provide robust performance, great filtration, and affordability all in one package.
Click here to learn about the Water Ionizer.
About Jupiter
Jupiter has been making water ionizers since 1982, and in the past 20 years it has partnered with Emco Tech and IonWays to deliver some of the best water ionizers available today. This partnership between the three companies is what may set it apart from many other companies, Emco Tech prides itself in world class Research & Development, and IonWays brings its powerful 'word-of-mouth' sales strategy.
In Japan, Jupiter has a team of 20 PhD scientists working on researching and developing new technology. Emco Tech assembles Jupiter water ionizers in Korea at its state-of-the-art facility, and IonWays spreads awareness about the ionizers through its distribution system, ever increasing sales for the trio. Together, they have developed over 30 water ionizers, including hot & cold water models, and have won numerous award for their designs. Most importantly, Jupiter water ionizers have the lowest repair/return rate in the industry today.
Popular Jupiter  Ionizers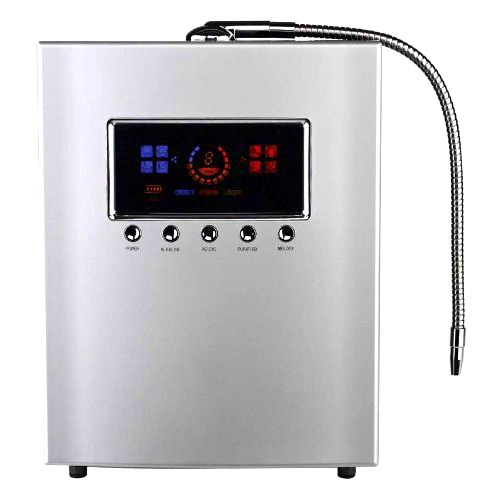 Here are some of the more popular Jupiter Water Ionizers you will find:
Jupiter "Athena" Water ionizer – JS205
Jupiter "Delphi" Ionizer (Under-sink with Upgraded Spout)
Jupiter "Venus" – JP107
Jupiter "Melody" / "Isis" – JP104
Their Water Ionizers
The Plates: Jupiter water ionizers have Platinum-Titanium electrodes that ionize the water. The electrodes are covered with a super fine mesh that has points and valleys which increases the surface area in contact with the water without increasing the size of the plate. Just one of the many innovations you'll find on Jupiter water ionizers.
Filtration: Many Jupiter water ionizers use the BioStone Filtration System which incorporates Granulated Activated Carbon, BioCeramic Tourmaline and Calcium to give you the highest level of water filtration.
Durability: A water ionizer is a serious investment, and you want that investment to last. Jupiter water ionizers are built to last! Their cleaning system will completely eliminate any mineral scaling on the electrodes ensuring clean, healthy water for years to come. Not only that, the Jupiter cleaning system, DARC, will clean the ionizer while you ionize…you will always be able to pour water without having to wait for a cleaning cycle to end.
Jupiter Water Ionizers – The Products
Jupiter "Athena" Water ionizer – JS205
Price Range: $2,500
The Athena is a countertop unit designed for standard home use. It has a digital display and a flow knob to increase or decrease the flow of water which can also increase or decrease the pH level of water. As with most Jupiter water ionizers, it also has a voice indicator which confirms the water selected is acidic, alkaline, or purified water. The volume level of the voice indicator can be adjusted or turned On or Off.
Features:
3 electrolysis plates
9 levels of pH
Digital Indicators
Voice Confirmation
3 year warranty
Jupiter "Delphi" Ionizer (Under-sink with Upgraded Spout)
Price Range: $2,700
The Jupiter Delphi an under-sink unit that has two main components: an ionizing unit that installs under the sink (or underneath a counter), and an elegant sink-side faucet to dispense the ionized water. The sink-side faucet has pH level indicators so you know what pH water you're drinking, and it also has two spouts, one for alkaline water and one for acidic water. The unit also has Voice Confirmation which tells you exactly what you've selected every time you use the ionizer.
Features:
Voice Confirmation
Alkaline and Acidic level indicators
Sink-side faucet with controls
pH level indicators
Automatic Temperature Shut-down
Jupiter "Venus" – JP107
Price Range: $1,200
The Venus is in the mid-range of Jupiter water ionizers. It provides functionality, durability, and the latest technology without the all the extra bells and whistles. The Venus has a basic control panel that indicates the pH level of the water, and has icons that light up when the corresponding buttons have been pressed. It also comes with the flow knob which can increase or decrease the flow of water. The Venus can produce water with a pH ranging from pH5 to 10, at a rate of 1 gallon of ionized water per minute.
Features:
Four pH levels for alkaline water
Four pH levels for acidic water
Automated cleaning for 10 seconds after every 20 liters
Easy installation (Next to sink, over sink, or wall-mounted)
Platinum-Titanium Electrolysis Plates
Lifetime Warranty
Jupiter "Melody" / "Isis" – JP104
Price Range: $1,700
The Jupiter Melody has it all: a stylish upright look, excellent filtration, a wide range of output, easy operation and simple installation. The Melody has a flow control built-in to the front panel and it can install directly to your water source, an option that very few water ionizers offer. The Melody also has a stainless steel top spout, a common feature on many Jupiter water ionizers, which may seem like a minor thing until you use an ionizer without one. A top-mounted spout lets you pour water anywhere, which is great if your sink is full of dishes, or if you want to fill up a large bottle.
Features:
5 electrolysis plates
Post cleaning so you always have perfect water
Four pH levels for alkaline water
Four pH levels for acidic water
Pure water
3-stage filtration
A display that will change color to match the water's pH
Lifetime Warranty!
Jupiter water ionizers have a reputation for cutting edge technology, and master craftsmanship, all at a reasonable cost. Jupiter water ionizers have the lowest repair/return rate of all ionizers out there, and are built to last you a long time. Jupiter water ionizers even come with a lifetime warranty. So if you are looking for a top quality water ionizer but don't want to pay an excessive amount, then you should check out Jupiter Water Ionizers.