Kangen Water Ionizers
When looking at Kangen Water Ionizers, you should know that they are actually Enagic water ionizers. Kangen is a U.S. company that is owned by Enagic. Enagic is a Japanese company that has manufactured high quality water ionizers for over 30 years.
Kangen water ionizers are recognized as medical devices by the Japanese Health & Welfare Agency. Enagic and Kangen water ionizers are referred to as the "Rolls Royce of water ionizers".
Click here to read about Enagic Water Ionizers.
There has been a lot of buzz about Kangen water ionizers in the water ionizer community. Retailers and critics alike have varied opinions about Kangen water ionizers, both positive and negative, but we will give you an unbiased view of the issue and help you to decide if Kangen water ionizers are for you.
Kangen  Ionizers – The Branding
"Kangen water" is the term that Kangen uses to describe the water their ionizers produce. Honestly, it is really a marketing tactic to build awareness and popularity of their products. The fact is that Kangen water is really ionized water, which can be alkaline or acidic water. As you've read on other pages, alkaline water is excellent for internal use and acidic water is great for external use. There are many health benefits to ionized water, so you can see why Kangen would want their name to be associated with those health benefits.
Companies that are competing with Enagic and Kangen water ionizers disapprove of this strategy, and make many negative comments about Kangen water ionizers…you've probably seen a few of those comments, but the fact is that Kangen has a smart marketing strategy, labeling the water their ionizers produce as "Kangen water". Kangen water ionizers are considered the best ionizers in the world, they produce Kangen water, so Kangen water is the best in the world! Think of it like this, everyone would want a Rolls Royce, and the Rolls Royce Power, but if you walk into a Ford dealership and say you want "Rolls Royce Power", they're sure to get a little upset, right? It's the same concept here.
Most of the websites that contain any negative comments were created by Kangen's competitors, so of course they will trash Kangen water ionizers as much as they can in order to promote their own product. But, trashing the competition is an ill-mannered, crude and boorish marketing strategy.
 Their Water Ionizers – The Strategy
Kangen employs an MLM strategy to market their water ionizers. MLM stands for Multi-Level-Marketing. MLM is basically a "word-of-mouth" strategy. The people that sell Kangen water ionizers are compensated in two ways:
1. They receive compensation for sales that they personally make.
2. They recruit others to sell the product, and receive a commission on every sale that recruit makes. This creates a "downline", the higher up you are on line, the more commission you make on the recruits below you.
MLMs are a very powerful way of spreading a message, and Kangen has used this strategy to greatly increase the awareness of water ionizers, their uses and the health benefits. If it wasn't for the parent company building this awareness about ionized water, many other water ionizer companies would simply not exist.
Kangen  Ionizers – The Products
As we mentioned earlier, Kangen is a U.S. based company that is owned by Enagic, and their water ionizers are Enagic water ionizers. They have the same product line because they are the same company. Here are a couple more products that are offered that are not listed on our Enagic Water Ionizers page:
Leveluk SD501 U – Under-the-Cabinet Unit
Price Range: $4,500
This unit has the power and quality of the SD501 model, but it provides convenience by hiding underneath your sink, and has an LCD control panel which can be wall-mounted.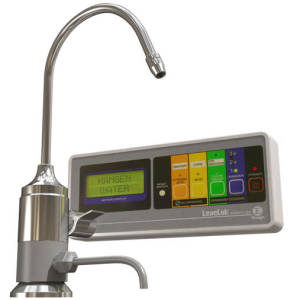 Features:
7 electrolysis plates
LCD Display
Voice confirmation
5 year warranty
The pH Levels:
Strong Kangen®/Alkaline water: pH 11.0
Kangen Water®/Alkaline Water: pH 8.5-9.5
Neutral water: pH 7
Acidic water: pH 5.5-6.5
Strong Acidic water: pH 2.3-2.7
Produces:
Alkaline Water at 1.18 – 1.97 gallons per minute
Strong Acidic water at 0.15 – 0.31 gallons per minute
Anespa / ANSP-01- The Home Spa System
Price Range: $2,200
The ANESPA Home Spa will turn your bathroom into a natural hot spring. The ANESPA will produce a stream of ionized mineral water. It removes harmful substances from your tap water, then adds moisturizing minerals which are great for your skin & hair. This blend of hot spring ingredients & minerals makes the water from your Anespa slightly alkaline and extremely relaxing! The ANESPA creates an abundant flow of relaxing, hot water at a rate of 4 gallons/minute. Plus, the massaging shower head included will add to that relaxing effect!
From regular use, to extensive use, heavy duty use, office use, portable units and even home spas, Kangen offers a wide range of products to fit any needs. Before you settle on any type of unit, do some research and then compare them to Kangen Water Ionizers.